Post(s) tagged with "Health"
Hands On: Scanadu Scout Medical Tricorder by PCMagazineReviews
The Scanadu Tricorder comes together and is explained in this short video. In this case technology is not replacing the doctor, but maybe some nurses who do routine tests.
But what it does do is redefining our view of healthcare! It is a step in shifting the gravity from institutions as hospitals to a point somewhere between the doctor and yourself…
The e-Medicine Explosion | MIT Technology Review ⇢
A list of TR articles related to the emergence of e-medicine.
New wave of 'superbugs' poses dire threat, says chief medical officer | Society | The Guardian ⇢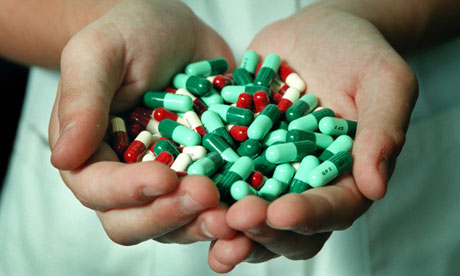 "Antimicrobial resistance poses a catastrophic threat," said Davies. "If we don't act now, any one of us could go into hospital in 20 years for minor surgery and die because of an ordinary infection that can't be treated by antibiotics. And routine operations like hip replacements or organ transplants could be deadly because of the risk of infection.
BBC News - TED 2013: Uchek app tests urine for medical issues ⇢
A smartphone app that uses a phone's camera to analyse urine and check for a range of medical conditions has been shown off at the TED (Technology, Education and Design) conference in Los Angeles.
With a blazing speed cheap new individually based tools for self diagnosis are appearing everywhere. Many of them are using the capability of smart phones like the iPhone and is distributed globally through the Appstore. Health care is up for a perfect storm here, and it seems to be sooner than many of the people with that sector thinks.
MIT Builds An Open-Source Platform For Your Body | Fast Company

MIT Media Lab's 11-day health care hackathon pulled students and big companies together with a common goal: Healing a broken industry.

Siberian temperatures. Eleven grueling days, navigating rough terrain. Six teams, matched for talent, competing for glory at the end. The Iditarod? Nah, just the annual MIT Health and Wellness Hackathon.

This isn't your average social app-fest. The goal is to jump-start an open source platform where apps that track all different aspects of your bodily health can exchange information. It's a Sisyphean task, since most digital health solutions today are trapped in silos, but the organizers believe they can change that by enfranchising big companies instead of trying to disrupt them.
The Top 10 Global Health Issues to Watch in 2013 ⇢
The growing role of frontline health workers

The need for more community health workers

The rebirth of family planning

Helping even more children to live longer

AIDS: getting to zero

The continuing fight against malaria

Eradicating polio

The global burden of non-communicable diseases

Safety for health workers during conflicts

Mobile health and new technologies
Doctors regrow breasts in cancer sufferer

In a medical breakthrough, Australian surgeons have managed to regrow breast tissue for women who have had cancer surgery. 

They say in one patient, breast tissue was successfully grown from her own fat cells. 

Full Story: ABC
Craig Venter Imagines a World with Printable Life Forms

Craig Venter imagines a future where you can download software, print a vaccine, inject it, and presto! Contagion averted.

"It's a 3-D printer for DNA, a 3-D printer for life," Venter said here today at the inaugural Wired Health Conference in New York City.

The geneticist and his team of scientists are already testing out a version of his digital biological converter, or "teleporter."

Full Story: Wired
When will data-powered personalized health hit 'escape velocity'? — Tech News and Analysis ⇢
A handful of leaders in health data suggest that data-driven personalized health approaches could achieve mainstream adoption in five years, with some saying valuable but intermittent work could happen even sooner.

From gadgets that monitor our activity and vital signs, to startups that let us explore our own DNA - there are more technologies than ever for collecting and analyzing personal health data.

For now, the applications of personal health data are mostly the stuff of "Quantified Self" hobbyists and experimental research. But some say it may not be too long before personal health data becomes a powerful part of the mainstream clinical experience.

At the Health 2.0 conference in San Francisco on Wednesday, David Ewing Duncan, a journalist and author of "When I'm 164," asked a panel of health data leaders when data-driven personalized health might reach "escape velocity".
Source: smarterplanet
Seven Themes for the Coming Decade | World Future Society ⇢
Gray Boom + Go East = Medical Tourism
Sharply rising medical costs in the U.S. will trigger a boom in medical tourism, in particular for anti-ageing treatments and elective surgery.

Gray Boom + Era of Uncertainty + Go East! + Digitize Me = Telemedicine
Although doctor office visits will never disappear, telemedicine may become increasingly common over the next few decades. Also, there may be a sharp rise in home-heal monitoring as a temporary alternative to assisted living communities. August 29, 2012 at 09:42AM
Loading more posts
P A Martin Börjesson
To be able to see the future emerge we have to throw a wide net to catch the weak signals. In this tumble I collect things I find valuable for my work as scenario planner, strategist and futurist - for more info about me go to www.futuramb.se.
Ask me about my posts
Twitter